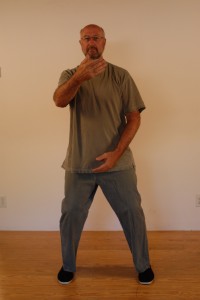 We are in the process of finalizing the details of a Tai Chi Cloud Hands workshop with Robert Tangora this fall in Boston, from October 26-28.
As preparation for the workshop, I will be teaching a fall course at Brookline Tai Chi, covering the basic mechanics of Cloud Hands, as well as the prep exercises from Robert's newly published book.
I'm really looking forward to taking everyone at Brookline Tai Chi through these exercises and at the same time, working with members of the Inner Form coaching program to improve their Cloud Hands practice.

In fact, I just shared a 25-minute follow-along practice mp3 with the Inner Form members, guiding them through a set of Cloud Hands prep exercises. This is the same kind of coaching I give people in live classes each week.
More and more it amazes me just how many different ways we are able to refine and improve qigong and Tai Chi practice. Of course, people have been teaching themselves the basics from books for years, but I think we've entered age where getting feedback and guidance remotely is getting much more sophisticated.
Sure, there are elements of the practice that will only be transmitted in person, but think of how much more we are able to share this way, through video, audio, email, and written discussion -- across the globe.
It amazes me that people continue to find this site, reach out, and connect with each other about something so personal, so individual, and so fundamental to their sense of well-being.
And I'm grateful that I get to share in that with all of you!
Ok, ok, so back to the workshop announcement: