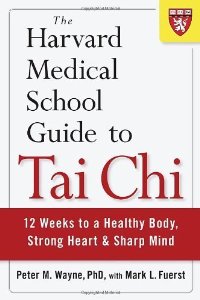 In his new book, the Harvard Medical School Guide to Tai Chi, Dr. Peter Wayne lays out the "8 Active Ingredients of Tai Chi" to help us understand the interface between traditional Tai Chi practice and the Western biomedical paradigm.
As the Research Director of the Osher Center for Integrative Medicine, jointly based at Brigham and Women's Hospital and Harvard Medical School, and the founder of the Tree of Life Tai Chi Center, Peter blends more than three decades of teaching experience with ongoing inquiry into what makes Tai Chi an effective medical intervention.
In this episode of Qigong Radio, we explore the development of the 8 Active Ingredients and how help translate Tai Chi into a Western context
The 8 Active Ingredients of Tai Chi are:
Awareness, Mindfulness, Focused Attention
Intention, Belief, Expectation
Dynamic Structural Integration
Active Relaxation of Mind and Body
Aerobic Exercise, Musculoskeletal Strengthening, and Flexibility
Natural, Freer Breathing
Social Interaction and Community
Embodied Spirituality, Philosophy, and Ritual


I asked Peter to explain how he understands Tai Chi practice through these 8 ingredients and how they are related to each other. While there are many ways to explain what Tai Chi is, this framework has to explain Tai Chi to a Western medical audience, making each element of the practice related to biomedical and psychological principles rooted in evidence-based medicine.
Peter tells us what was easy to convey and where the Tai Chi principles were more esoteric, but important to explain through the framework.
He also makes the case for greater medical literacy amongst Tai Chi teachers and practitioners because, as Tai Chi research gets more sophisticated, the feedback loop between what gets studied and how Tai Chi is defined will get tighter and tighter. If you're concerned with the legacy of Tai Chi in the West, you need to be a part of this conversation.
Check out the podcast for all that and a great sense for Peter's insight, generosity, and caring as a practitioner and leader in the Tai Chi research field.
[powerpress]
You can also subscribe to Qigong Radio via: