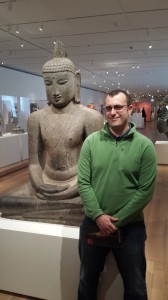 Checking in with one of my favorite sculptures at the Art Institute
I was thrilled to be able to share a weekend of Tai Chi in Chicago earlier this month, thanks to Energy Arts Instructor Chris Cinnamon and his students at Enso Tai Chi.
Chris just posted an incredibly detailed report summarizing the workshop here.
If you read between the lines a little bit, you can come up with some great ways to structure your own practice. Think of the whole day as a single practice session. Can you:
Settle in
Let your mind and energy sink all the way through you
Expand your awareness 360 degrees around you
Simultaneously find new space inside your body
Grow that new space outward without tension or strain


To me, this would be a nice restorative and engaging practice session. How do you normally structure yours?
Check out Chris' post for some more ideas.
Thanks again to everyone who came out for some Tai Chi!