Join Tai Chi Master-Instructor Don Ethan Miller in a ground-breaking new program to increase your physical stability and overall well-being: The Tai Chi Way to Better Balance DVD.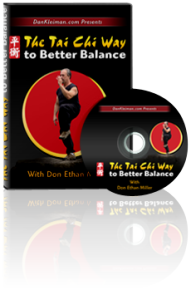 Each exercise and key Tai Chi concept is explained in detail and organized in a safe, easy-to-follow progression of levels.
By practicing the 3 Levels of Tai Chi Balance Training, you will soon embody the Tai Chi principles of Rooting, Central Equilibrium, and Yin-Yang Balance, through such ancient exercises as:
Wu Chi Standing
Master Cheng's Single Leg Rooting
The Universal Post
Dragon Scans The Horizon
Tai Chi Cat Walking
Primal Movement


and many, many more....

Buy the DVD now to head down the Tai Chi Way to Better Balance!
The DVD will be mailed to you, not a digital download.
What's on the DVD?
You won't find out-of-context seminar footage, bad recording angles, or endless flowery forms on the Tai Chi Way to Better Balance DVD. Just as in the book, we recorded simple, direct explanations and demonstrations, as you can see in this sample exercise clip:
This DVD will become your treasured practice resource, if:
You are an auditory learner who likes to follow GUIDED AUDIO instruction for each exercise.
You learn by watching breakdowns of each EXERCISE IN MOTION (and stillness!).
You want level-by-level PRACTICE ROUTINES that make following along as easy as pressing "play."


What People are Saying
First go through, I LOVE this book!! It's so clear to read on my Kindle that allows me to see it frame by frame in a way that really shows the flow. For example, visually the fonts, colors and highlighting techniques like the bullets, boxes and the curved lines at new chapters, as well as the rectangle that carries through gives punch and clarity. This is balanced by the beautiful old photos of both objects and people that make it feel less like an ebook. I found photos like the tree, people practicing outside, and dance-like figures a delight to look at.The "regular looking" people make me hopeful that I, too, can do this and the colorful demonstrations that explain poses are really helpful! Just even the expression of the woman on the last page captured the feel that I imagine I will have at the end of a practice session! -- Nancy

Remarkable exercises. This fulfills the promises that induced us to take up Tai Chi in the first place. No matter what your level is, whether you've even heard of Tai Chi, by following these simple exercises, you will benefit. If I were to tell you the effects of one seminar with Don Miller, you wouldn't believe me, so, see for yourself. Finally someone who has rediscovered Tai Chi's secrets, has the competence and the generosity to reveal them. -- Ted
There is nothing like stagnate form practice in Don's Tai Chi. I was fortunate enough to study with Don for a year while on East Coast and he adds great depth to any form you may be trained in. -- Lew
I ordered it and it is great. In the e-book are presented some great exercises and I can't recommend it enough. I can't wait to receive the DVD (by post mail). Thanks Dan Kleiman and Don Ethan Miller for this great program. Everybody interested in Tai Chi, other Internal Martial Arts or that wants to enhance his own balance must have it. I practiced some of the exercises presented in this program before and I can atest that they work. With this program you will take your Tai Chi in another lever and you will feel the difference. Also Don seems to really understand what Tai Chi is really about and how to develop combat skills. Can't wait for the sequel to this program. -- Igor
The Tai Chi Way to Better Balance
DVD